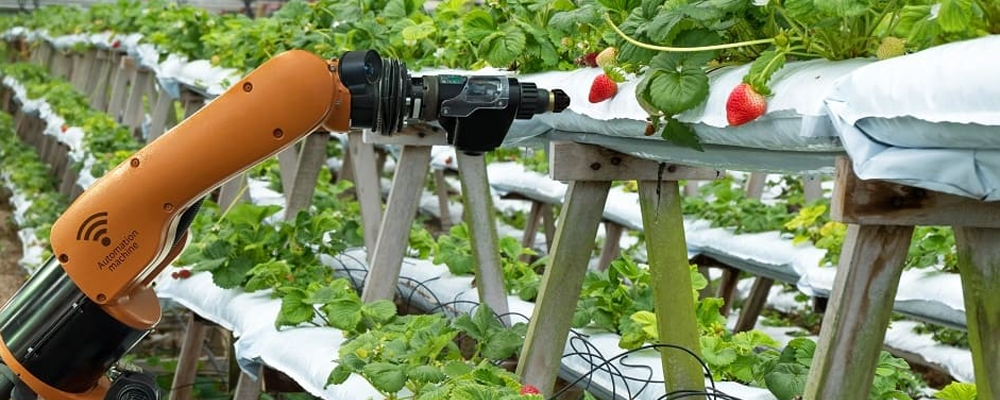 Investment Insights: Venture Capital, AI, and Start-ups in the Harvesting Robot Market
Aug 14, 2023
Current Market Dynamics
The adoption of harvesting robots is in the nascent stage but expanding rapidly. With technological advancements and decreasing costs, more government and private support is anticipated, making harvesting robots increasingly accessible for farmers. This aligns with a global trend towards modernizing agriculture and enhancing productivity.
The current harvesting robot marketis driven by rapid innovation and the emergence of several start-ups in the past few years. These start-ups are focusing on creating robots that enhance the efficiency of crop harvesting while minimizing labor costs. The global market for agricultural robots is expected to reach $46 billion by 2031, and harvesting robots form a substantial portion of this growth. As per Astute Analytica, the harvesting robot market is projected to contribute over $3.46 billion to the overall market by 2031.
As a result, venture capital firms around the globe are recognizing this potential and investing heavily in the sector. This investment is driving technological advancements and competitive pricing, further adding fuel to the market expansion.
Venture Capital Investments: Fueling Innovation
Venture capital is playing a prominent role in the development of advanced harvesting robot technology. The start-ups in this field often require substantial funding to move from the concept stage to market deployment. Venture capital firms provide this much-needed financial boost, thereby nurturing innovation and accelerating the development process.
Recent investment highlights in the field include:
August 2023: Fieldwork Robotics raises £1.5 million from Elbow Beach Capital for its AI-supported raspberry-harvesting robot Alpha and plans to raise £2 million more.
March 2023: Three cutting-edge projects receive over £9 million in funding for research and development on robotic crop harvesting and environmentally-friendly approaches to farming, announced by Defra.
August 2022: UK ag-tech startup Muddy Machines secures €1.8 million in seed funding for developing robotic platforms for specialty field crops.
September 2021: Advanced Farm Technologies raises $25M for fruit picking robots.
2020: Root AI raises $7.2M in seed funding to deploy its harvesting robot amid COVID-19-fueled demand.
This surge in funding has led to a CAGR of 25% in venture capital investment in the agricultural robot sector over the past five years, creating fertile ground for start-ups.
Start-ups: The Drivers of Change
Today, start-ups are at the forefront of this technological revolution, offering innovative solutions tailored to specific agricultural needs. Some of the unique approaches taken by these fledgling companies have led to groundbreaking advancements in machine learning, artificial intelligence, and automation, vital to harvesting robot functionality. Top 3 start-ups in the global robot harvesting market are
Tevel, an innovative startup from Israel, specializes in the creation of robotic strawberry harvesters, integrating machine learning and computer vision technologies. These technologies enable the robots to pinpoint and collect ripe strawberries without inflicting damage. With over $32 million in financial backing, Tevel is engaged in collaborative efforts with agricultural communities in the United States, Israel, and Europe.
Similarly, Harvest Automation, headquartered in California, focuses on the development of robotic harvesting machinery specifically designed for leafy green vegetables. These robots utilize computer vision to discern and collect greens that meet particular size and quality standards. Harvest Automation has successfully procured funding exceeding $33.6 million and is actively partnering with farmers across the United States and Canada.
Fieldwork Robotics, a UK-based entrepreneurial initiative, is at the forefront of autonomous harvesting technologies for an array of crops, such as strawberries, raspberries, and tomatoes. Through the application of machine learning, the robots are capable of navigating fields and identifying mature crops. With an investment of over £1.7 million, Fieldwork Robotics is currently fostering relationships with farmers in the United Kingdom and the Netherlands.
AI Shaping Future Landscape of the Harvesting Robot Market
AI is playing a pivotal role in shaping the harvesting robot industry, redefining the way farmers approach agriculture and harvest management. Below, you'll find a detailed analysis that encompasses the aspects of technology landscape, market dynamics, investment feasibility, and government regulation.
AI-Driven Identification: Robotic harvesters use AI to differentiate ripe crops from unripe ones. By employing machine learning and computer vision, they can recognize specific sizes, colors, and shapes, leading to a more precise harvest.
Autonomous Navigation: Through AI algorithms, harvesting robots can navigate through fields autonomously, analyzing the terrain, avoiding obstacles, and planning the most efficient routes.
Quality Assurance: AI enables the robots to assess the quality of the harvest, ensuring that only the crops meeting specific standards are harvested. This reduces waste and enhances product quality.
Government Regulation: Guiding the Industry
Government regulations and incentives play a critical role in shaping the harvesting robot market. Policies encouraging sustainable farming and technological advancement have made it conducive for start-ups and investors to enter this space.
In line with this, the future growth harvesting robot market looks highly promising. Continued government support through favorable policies and incentives is expected to maintain this upward trajectory. The growing global demand for food, coupled with labor shortages and an emphasis on sustainable farming, will further propel the demand for harvesting robots.
United States: The USDA's Farm Service Agency (FSA) facilitates the buying of harvesting robots through programs like the Equipment Cost Share Program and the Beginning Farmer and Rancher Development Program.
European Union: The European Commission's Horizon 2020 program funds R&D projects on agricultural robotics, including the development of robotic strawberry harvesters.
Japan: The Ministry of Agriculture, Forestry and Fisheries (MAFF) provides subsidies for both new and used agricultural machinery, including harvesting robots.
Conclusion
The harvesting robot market is offering lucrative innovation and investment opportunity. Wherein, the interplay between venture capital, start-ups, and government regulation is fostering an environment suitable for technological advancement and market expansion. The market is gaining on the ground of the venture capital and start-ups' role, in collaboration with favorable government policies.
The statistical data, investment trends, and market analysis in this blog have been carefully aligned with the critical aspects of the harvesting robot market. The specific funding examples demonstrate the level of investment and confidence in this field, heralding an exciting future filled with potential and promise.